I cant see my reply to Stephen Collins SKID post. So I am repeating my post under a new topic
To see the comments added to a photo album click on the "comments" at the upper right of the post. (added by moderator)
That is a lot of weight to be handling! There is an alternative method which can be used for solo layout.
1. Hammer a nail in with just 4mm protruding and hook the tape over it:
In the picture I am showing the measurement of the end correction (this only has to be measured once)
2. Insert a nail at 50m with the tape NOT under tension. When you tension it will read about 49.990m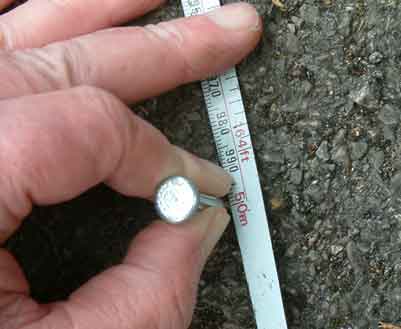 3. Having previously strapped up the tape drum with a loop you can hook the spring balance to, you can now tension the tape with your right hand while getting your head close enough to the nail to read the tensioned reading :-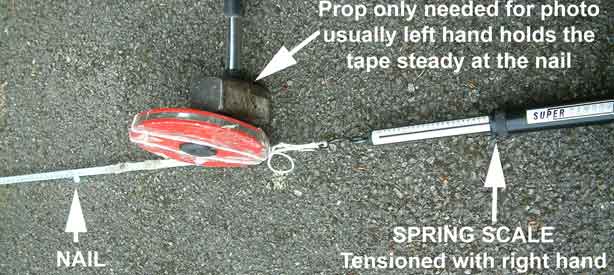 4. Here is what you see taking the reading
The method is absolutely fool poof provided the nails are inserted far enough into firm tarmac so that they do not wobble at all under tension. Just remember to take along a portable masonry drill just in case you encounter a concrete road!