INSIDE THE COUNTER – HOW IT WORKS
The Veeder-Root counter used in all Jones counters has remained unchanged for decades. Below is a picture of a similar VR counter that has been disassembled. It consists of five numbered wheels mounted on a central shaft. On one side of each wheel are twenty teeth. On the other side is a single tooth.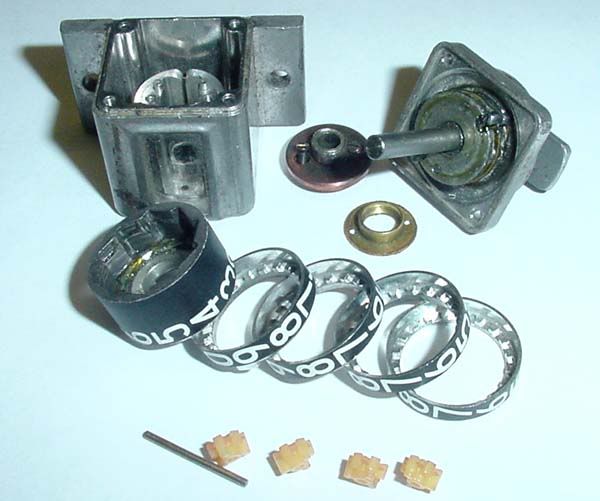 Between the numbered wheels, mounted on a shaft which is parallel to the central shaft are four small intermediate tiny gears. They are set up so that when a wheel passes 9 digits, the small gear engages the single tooth on the next gear, and advances it one digit. This process continues along the counter gear train, until the counter reads 99999. At this point, all four of the small gears advance the wheels one count, and we get back to 00000.
The question of counter skipping has arisen. We are investigating this. We have one counter that has been returned. The first wheel rotates as it should but the following wheels do not. We intend to disassemble this counter, examine the first small gear, and photograph it.
I expect to see a damaged tooth, perhaps broken, perhaps worn. At this point it is uncertain what has happened. Because the counter is almost new I suspect breakage, but do not really know.
Veeder-Root places a 500 rpm operating limit on the counter, which translates into just over 15 mph or 25 km/hr of riding speed. Many have exceeded this, especially on long downhills, and not had a problem, but the stated manufacturer's limit remains.
Because the first wheel is directly driven by the central shaft, it will not be affected by damaged tiny intermediate gears. This means that if a skip happens, it will happen somewhere between the first gear and the rest. Since one complete rotation of ten counts is about a meter, each skip would cause at least one meter of under-recording of distance.
It's possible that the plastic drive gear could be skipping, but I don't see how this would be undetected, as it's out there for all to see, and any malfunction would be obvious.
Stay tuned for further developments.