FIXING A BROKEN DRIVE TANG
The Jones Counter, model JR, fits the majority of bikes with no modification. However, some bikes have front wheel geometry that makes installation difficult. In some cases, the drive tang (the little bent-over piece that is pushed by a spoke) gets bent or breaks off. This is usually caused by inattention during installation. When the counter is put on the bike, and the axle nut tightened, there must be some play, or shake, in the mechanism. If there is any binding at all, the unit must not be used until the binding is eliminated. If this is not done, the tang may be bent or broken.
We supply replacement chassis to fix bent ones, but there may be a better way.
I have done some experimenting and have come up with a simple fix. It is shown in the photo below.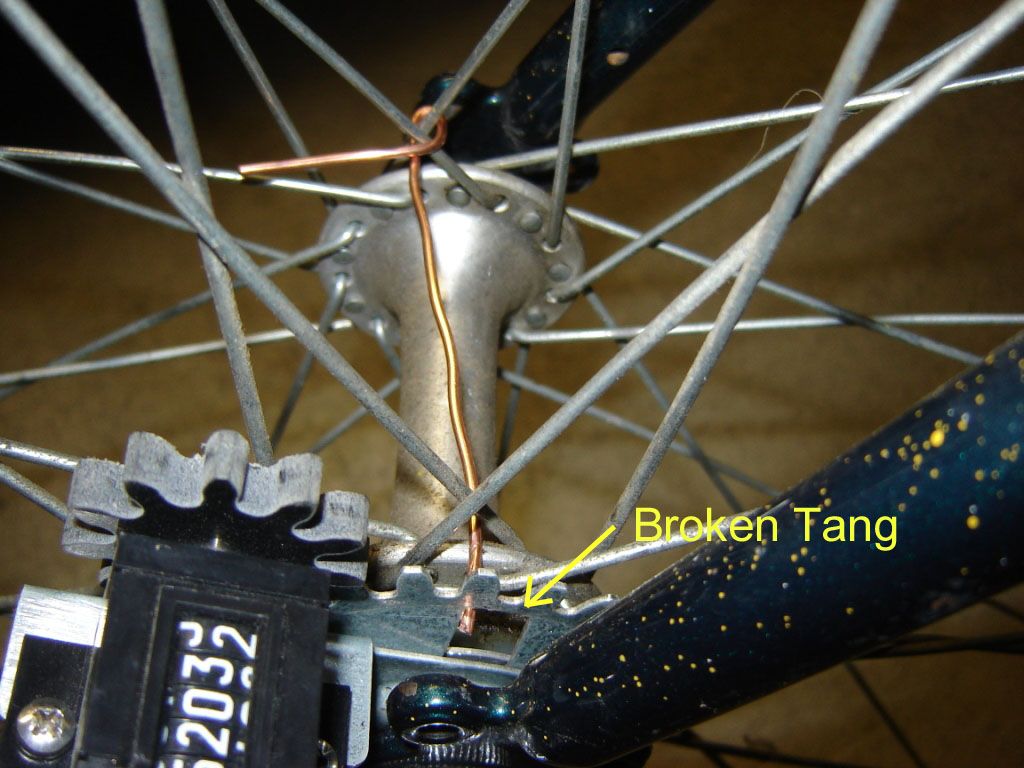 A wire is bent into a u-shape and inserted through the wheel as shown, until the end projects beyond the hole where the tang was, on the left-hand side of the bike. The right-hand side end of the wire is then wrapped around the crossed spokes, preventing it from moving. This leaves a bit of wire projecting beyond the left-hand side of the chassis. If not trimmed, it will prevent the wheel from turning. With a suitable cutter the end of the wire must be cut off so that it projects through the tang hole, but does not interfere with proper rotation of the wheel. Before trimming, be sure there is free play between the gear and the wire.
This fix has one strong advantage. It provides a direct drive to the large gear, which is in line with its direction of movement. It is strong enough to drive the unit, but weak enough to just bend out of the way if something causes the gear to bind, preventing damage to the chassis.
Counters have, until now, been provided with a pair of electrical connectors which extend the reach of the tang, but these sometimes fall off. In addition, the pushing force on the unit is offset from the plane of the gear, and may cause extra friction.
No Jones counter has ever fit all bicycles, and ours is no exception.
This is a preliminary posting, and commentary is invited.
PS: The wire I used is 14 gauge copper (0.064 inch diameter). It's working pretty well. There may be better wires, but I think I hit it pretty close with this choice.